Complete Kitchen And Bath Remodel In Kenmore, NY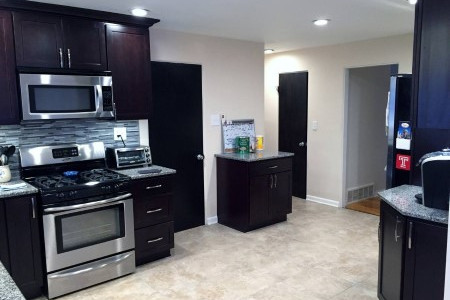 At our first meeting with the customer, we listened to what they liked and didn't like about their home. We discussed their goals and talked about the various possibilities. The customer was focused on design build project for a complete kitchen renovation and bathroom remodeling project. The customer was looking to update the mechanicals, install new insulation, cabinetry, tile, lighting, and Kholer plumbing fixtures for both the kitchen and bathroom.
After we reviewed the budget, part of the remodeling process with Riff Co. Construction & Renovations is preparing a 3D artist rendering to help the customer visualize the finished project. We helped the customer with the ordering of materials which passes the saving along to the customer. Our professional remodeling contractors are dedicated to providing the highest quality craftsmanship and customer service possible and we believe in good communication. As a result, we worked directly with the client throughout the various stages of the project. We completed the demolition and framing and coordinated our efforts with the plumbing and electrical contractors. Finally, we installed new custom Kemper cabinets and Imolia tile flooring.
Our trusted kitchen and bathroom remodeling contractors at Riff Co. Construction & Renovations recently finished this Complete Kitchen and Bath remodel in Kenmore, NY.
Kitchen And Bath Remodel Gallery
Recent Articles
Remodeling Tricks For Small Bathrooms

When you hire a remodeling contractor for a bathroom renovation project, you can't expect them to read your mind. It's important to be able to get the results you want but the only way to make that h […]

Incorporating Current Kitchen Remodeling Trends Into Your Home

Sometimes it doesn't take an interior designer to determine that your Buffalo kitchen requires some updates. Whether your appliances are obsolete or your cabinets are in bad shape, hiring a kitchen r […]