HGTV Bathroom Renovation In Buffalo, NY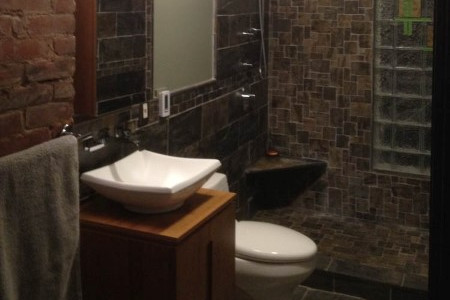 Take a look at the project details on HGTV here. Notice at about 1:40 into the video, Erik, owner of Riff Co. Construction & Renovations, is on screen drinking a well-deserved beer. Keep watching for about 20 seconds to see the awesome work we did!
First, we wanted to brighten up the bathroom. During the renovation phase, we ripped out the old wooden window and installed a glass block window which let more natural light into the space.
We wanted the bathroom to feel luxurious and comfortable on those cold Buffalo winter mornings, so we installed an under floor heating unit. We chose a Nuheat electric floor heating system.
We chose African slate tiles for the shower walls and smaller tiles of the same slate for the back shower wall and the shower pan/floor. Having the same material on the shower floors and the back wall provided a lot of continuity and gave the whole bathroom additional depth.
We added a corner matching stone seat in the shower and a Koehler multi head shower fixture with a rain head. We also installed a new Koehler toilet.
Buffalo's Finest Bathroom and Kitchen Remodeling Contractors
As a locally owned business in the Buffalo area we were honored to share our expertise with a wider audience. Our entire Riff Co. Construction & Renovations team of bathroom and kitchen remodeling contractors was more than happy for the chance to show off our bathroom renovation skills for HGTV's House Hunters Renovation. We were able to bring new life into this fixer-upper's bathroom and turn it into a luxurious feeling space for the homeowners.
Bathroom Renovation Gallery
Recent Articles
Remodeling Tricks For Small Bathrooms

When you hire a remodeling contractor for a bathroom renovation project, you can't expect them to read your mind. It's important to be able to get the results you want but the only way to make that h […]

Incorporating Current Kitchen Remodeling Trends Into Your Home

Sometimes it doesn't take an interior designer to determine that your Buffalo kitchen requires some updates. Whether your appliances are obsolete or your cabinets are in bad shape, hiring a kitchen r […]