Lancaster Kitchen Remodeling Cabinets And Countertops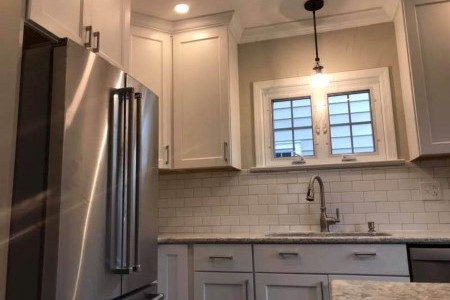 At Riff Co. Construction & Renovations we love a good challenge. When talking with our client Kevin and Debbie in Lancaster, NY, we really wanted to understand what aspects of their current kitchen they liked and what just wasn't working for them. We quickly realized that this needed a kitchen overhaul. We were excited at the prospect of taking on this kitchen remodeling project.
The first step for our team was to come up with a redesigned layout and present Kevin and Debbie with a 3D artist rendering of our design. After discussing and agreeing on a final design and budget our team got to work.
We started by upgrading the outdated electrical components (GFCI outlets, switches and covers, lighting, etc.) of the old kitchen, and added all new GE appliances (refrigerator, range, microwave, dishwasher). Next we enlarged the entryway between the kitchen and the dining room, making the kitchen feel bigger and allowing for a better flow between the two separate spaces.
Kevin and Debbie selected white 42" upper cabinets from Kemper Cabinetry, to increase storage space, and a beautiful Cambria Quartz countertop. We extended the countertop next to the stove, giving Kevin and Debbie additional much needed counter space. For the floors, we used a grey stone tile which paired well with the grey tones in the quartz. A white subway tile backsplash was the perfect way to keep the kitchen feeling bright and modern. To complete the Kevin and Debbie's new kitchen we added crown molding, new trim and a fresh coat of paint.
Superior Kitchen And Bathroom Remodeling Contractors
Our team at Riff Co. Construction & Renovations was thrilled to work with the Kevin and Debbie to help them get the kitchen they always wanted. Another succesful project in the books for our favorite remodeling contractors.
Cabinets And Countertops Gallery
Recent Articles
Remodeling Tricks For Small Bathrooms

When you hire a remodeling contractor for a bathroom renovation project, you can't expect them to read your mind. It's important to be able to get the results you want but the only way to make that h […]

Incorporating Current Kitchen Remodeling Trends Into Your Home

Sometimes it doesn't take an interior designer to determine that your Buffalo kitchen requires some updates. Whether your appliances are obsolete or your cabinets are in bad shape, hiring a kitchen r […]