Incorporating Current Kitchen Remodeling Trends Into Your Home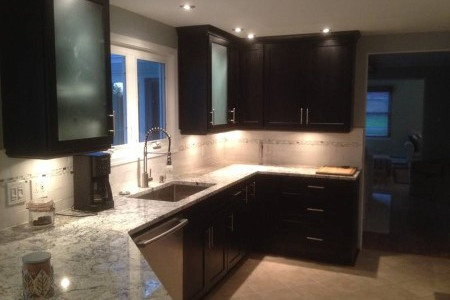 Sometimes it doesn't take an interior designer to determine that your Buffalo kitchen requires some updates. Whether your appliances are obsolete or your cabinets are in bad shape, hiring a kitchen remodeling contractor to revamp your kitchen will make every experience in this room a pleasant one. Trends in custom kitchen remodeling change throughout the years, but as long as you enjoy the changes, a temporary fad will turn into a timeless feature of your kitchen.
Make Your Kitchen Pet Friendly
Homeowners with pets often take their furry friends into consideration when undergoing kitchen remodeling. The surfaces chosen should be able to withstand the wear and tear that pets can inflict. To customize your new kitchen with your pets in mind, consider establishing a pet feeding station or a built-in pet bed underneath the countertop of a kitchen island.
Glitz and Glam
If you entertain guests frequently and want to establish a sophisticated atmosphere in your kitchen, switch out your battered countertops for new quartz countertops. Quartz is a popular material because it is long-lasting, anti-microbial, durable, and easy to clean. Many homeowners install quartz countertops because they don't have to worry about scratching, chipping, burning, or staining them. Quartz can be purchased in a variety of colors, veining, and finishes. Beige, white, taupe, and gray finishes are trendy at the moment.
Family Friendly Dining
If you struggle to gather your family around the table for meals, consider having a kitchen remodeling contractor install banquette seating next to a window, patio, or balcony in or near your kitchen. Many homeowners are adding banquette seating with built-in benches and eye-catching details. The benches can be decorated with embellished pillows, or the seats can remain bare.
Switch Up the Storage
Homeowners are trading their high wall cabinets for more undercounter storage. With this modification, they are able to install shelves above countertops as an alternative form of storage. If you prefer a sleeker look, consider removing your cabinets so that you can add artwork or an intricate tiling design to the bare walls. Along with undercounter storage, homeowners are placing their large appliances, such as microwaves and refrigerators, beneath countertops for a seamless appearance throughout their kitchens.
Concrete Changes
If quartz isn't your thing, consider adding concrete countertops or walls to your kitchen. Concrete can be made to look natural and rustic or industrial and sophisticated. To avoid cloaking your kitchen in darkness, select a light-colored concrete for your kitchen. If your kitchen is due for some renovations, contact a reputable Buffalo kitchen remodeling contractor like Riff Co. Construction & Renovations, and remodeling professionals will help you create your ideal kitchen.