Remodeling Tricks For Small Bathrooms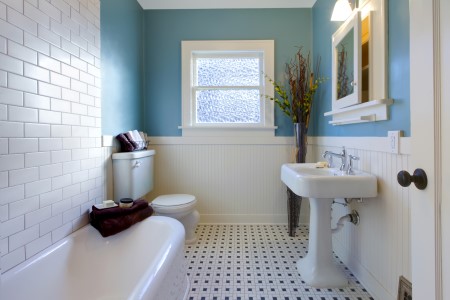 When you hire a remodeling contractor for a bathroom renovation project, you can't expect them to read your mind. It's important to be able to get the results you want but the only way to make that happen is through good communication. No matter how skilled and experienced a professional remodeling contractor is, they're not expected to know what you want, unless you tell them. Of course, one of the most common requests homeowners have is to make the space appear larger or at least have it function as a larger space. What surprises people is that they think smaller bathrooms will be a quicker and cheaper to fix up. This isn't necessarily true so it's critical that you and your professional contractor have an open line of communication.
Top Tips for Creating a Larger Looking Bathroom
Second to only
kitchen remodeling
, bathroom remodeling is almost as popular a home improvement project. Unfortunately, actually making it bigger is an extensive and expensive job, one that not many homeowners really want to get involved with.
Don't fret yet though, because there are tricks pros can use to help the space look and feel larger. Some of these include:
Extend the Counter In small bathrooms, it's acceptable to let that countertop stretch over the top of the toilet. This gives you extra, usable counter space and even helps conceal the toilet. Any homeowner would rather the focal point be a beautiful countertop than the commode.
Use a Sliding Shower Door This helps save space and makes better use of the interior space. It's also a helpful and useful way to make better use of your shower, as well.
Corner Sink It's probably not a surprise that a corner sink will help free up a lot of interior space in your bathroom. Plus, it will look larger and more open.
Mirror Walls You need a mirror in the bathroom anyway, so why not add more than one. A mirror wall isn't just useful, it helps give the illusion that the space is much bigger than it actually is. It may take more cleaning than a standard wall but will be worth the benefits.
Door Mount the Towel Bar Make use of the space you do have, all of it, including the door. You can mount the towel bar here, as well as hooks above it for robes or more towel drying solutions.
Use a Trough Sink Although you won't be able to fit his and her sinks in a small bathroom, a larger trough sink will be a great alternative option.
It's about getting creative but you have to express to your remodeling contractor that a goal is to make the space feel bigger.
Contact us for Buffalo bathroom remodeling and find out what makes Riff Co. Construction & Renovations the preferred local choice.